This page is designed to help you navigate the large quantity of literature available on our website. These application notes are viewable in .pdf format. If you do not have Adobe's Acrobat Reader, you can download it here.
Looking for MSDS ? Click here.
Journals
The Current Issue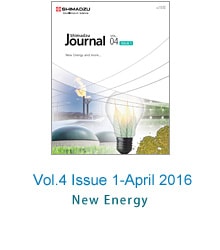 This issue focuses on new energy. In this issue, Professor Osamu Ishitani from Tokyo Institute of Technology Japan, the leading researcher in the artificial photosynthesis, talks about what discoveries have been made in his research. Another article discusses algal biomass research and hydrocarbon analysis, the data set of which was provided by Professor Keiichi Tomishige from Tohoku University, Japan. In addition, you will find the latest news, applications, and applicable topics.