Celebrating 50 Years of MS Innovation - User interviews January 2020 - Stanley Hazen
On the occasion of Shimadzu's 50th years of producing mass spectrometry instrument, we talk to researchers using Shimadzu MS instruments in their daily work and ask about their expectations for Shimadzu and the future of MS technology.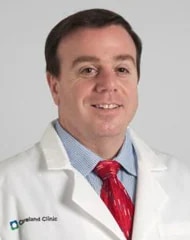 Stanley Hazen, MD, PhD,
Section Head of Preventive Cardiology & Rehabilitation,
Cleveland Clinic, USA
Main field of study:
Biomaker Research using LC-MS;
Gut Microbiota and Cardiometabolic disease
1. How did you become familiar with Shimadzu?
For over 25 years, we've been using Shimadzu HPLC and instrumentation for analytical studies. That has also now evolved into the use of Shimadzu mass spectrometry for our discovery pipeline and our quantitative analytical in vitro diagnostic (IVD) pipeline.
2. What is your main field of research, and how are you utilizing Shimadzu equipment?
My research is focused on understanding the mechanisms of heart disease. To do that, we use mass spectrometry as a primary tool to discover the chemical signatures, both in the artery wall and in the circulation, that are linked to the development of heart disease. We use the triple quadrupole mass spectrometry equipment from SHIMADZU as a workhorsee for these studies, both for the diagnostic stage and for monitoring the results of various analytical or therapeutic interventions.
We've been using Shimadzu instrumentation for many decades. Even when I was a graduate student over a quarter-century ago, the HPLC instruments that we used were Shimadzu HPLCs, and now my laboratory is using not only HPLC but also mass spectrometry equipment from Shimadzu because of its robust high performance and its speed, and it serves as a workhorse for the laboratory both in the clinical in vitro diagnostic lab as well as the analytical research part of the lab.
3. What are your reasons for choosing Shimadzu equipment?
We have been using Shimadzu for many years and not only because of the excellent performance of the instruments, but also because of the technical support team and the entire Shimadzu team. They really play a fundamental role in helping to support the investigative effort and are dedicated to helping us optimize our needs, tailoring the instrumentation to the approaches and needs that we desire.
We have been using Shimadzu for two reasons. One is from a technical standpoint, we think the instruments are second to none. They meet all of the needs of our discovery and in vitro diagnostic platforms. But more than that, the personnel at Shimadzu are committed to helping the investigative team, both in pairing the equipment to our needs and also in terms of training the personnel in our group.
4. What trends are you seeing in your field with regards to the use of mass spectrometry?
As we more and more develop markers that predict people's risk for disease or responses to therapy, mass spectrometry is a natural and practical tool for measuring those markers. And I can see that in the future, as the technology develops, it will have an ever-increasing role in both prevention and monitoring of therapeutics.
5. What are your expectations for Shimadzu and for MS technology in general in the future?
We would like to see mass spectrometry play an increasing role in the health and management of patients. This is a logical progression, I believe, of where mass spectrometry will be in medicine. Many of the new diagnostic markers that are being developed – markers for disease or for people's responses to disease – are best and most practically measured by mass spectrometry. So I can envision a day when a mass spectrometry device is a plug-and-play, "push a button and out spits the result" device, for even the relatively untrained user or medical technologist in a traditional community-based hospital setting. I think that that's the natural evolution of where this technology is headed – the development of this kind of point-of-care testing.