LC/MS/MS Method Package for Cell Culture Profiling
For LabSolutions Version 5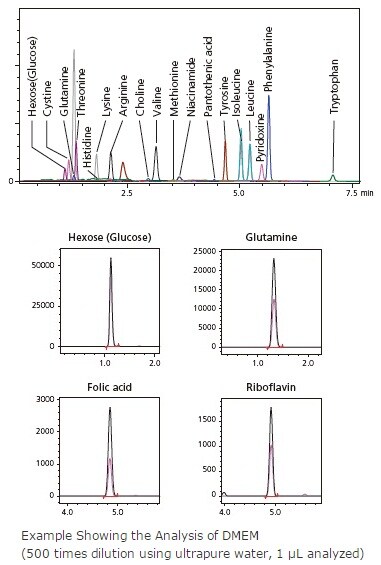 Provides Simultaneous Analysis Conditions for 95 Components

These methods target culture medium components and metabolites secreted by cells. This culture medium analysis platform enables the simultaneous analysis of up to 95 components, the highest number of target analysis components* that can be analyzed by such a platform. Such features make it possible to acquire detailed data concerning cell culture profiles.

* Per survey results as of January 2015

Enables Simultaneous Analysis in 17 minutes

Compounds such as amino acids and vitamins are commonly analyzed by each compound group, which makes analysis of a culture medium time-consuming. By providing conditions for efficient and simultaneous multi-component analysis, this method package enables simultaneous analysis in 17 minutes.

Optimized Methods for the Analysis of a Culture Medium

Pre-set analysis conditions fully utilize the capabilities of LC-MS/MS for analyzing trace components such as vitamins. In addition, since there is no saturation of the signal with high-concentration components, such as glucose or amino acids, it is possible to measure a variety of culture medium components using the same vial.

Note: In order to gain even more accurate quantitative results, a dilution series needs to be created.

Ready-to-Use Methods Provided

Shimadzu Method Packages deliver conditions for efficient and simultaneous multi-component analysis. They enable the user to quickly and easily implement complex methods without costly and laborious method development by providing sample preparation protocols, LC separation conditions, and MS acquisition parameters.
List of Registered Compounds
Internal Standard
Amino Acid and Derivatives
Vitamins
2-Isopropylmalic acid
2-Aminoadipic acid
4-Aminobutyric acid
4-Hydroxyproline
5-Glutamylcysteine
5-Oxoproline
Alanine
Alanyl-glutamine
Arginine
Asparagine
Aspartic acid
Citrulline
Cystathionine
Cysteine
Cystine
Glutamic acid
Glutamine
Glutathione
Glycine
Glycyl-glutamine
Histidine
Isoleucine
Kynurenine
Leucine
Lysine
Methionine
Methionine sulfoxide
N-Acetylaspartic acid
N-Acetylcysteine
Ornithine
Oxidized glutathione
Phenylalanine
Pipecolic acid
Proline
Serine
Threonine
Tryptophan
Tyrosine
Valine
4-Aminobenzoic acid
Ascorbic acid
Ascorbic acid 2-phosphate
Biotin
Choline
Cyanocobalamin
Ergocalciferol
Folic acid
Folinic acid
Lipoic acid
Niacinamide
Nicotinic acid
Pantothenic acid
Pyridoxal
Pyridoxine
Riboavin
Tocopherol acetate
Sugars
Gluconic acid
Glucosamine
Hexose (Glucose)
Sucrose
Threonic acid
Nucleic acid associated compounds
Adenine
Adenosine
Adenosine monophosphate
Cytidine
Cytidine monophosphate
Deoxycytidine
Guanine
Guanosine
Guanosine monophosphate
Hypoxanthine
Inosine
Thymidine
Thymine
Uracil
Uric acid
Uridine
Xanthine
Xanthosine
Antibiotics
Penicillin G
Others
2-Aminoethanol
2-Ketoisovaleric acid
3-Methyl-2-oxovaleric acid
4-Hydroxyphenyllactic acid
Citric acid
Ethylenediamine
Fumaric acid
Glyceric acid
Histamine
Isocitric acid
Lactic acid
Malic acid
O-Phosphoethanolamine
Putrescine
Pyruvic acid
Succinic acid
Remarks and Precautions
For Research Use Only. Not for Use in Diagnostic Procedures.
Shimadzu makes no warranty regarding the accuracy of information included in the database or the usefulness of information obtained from using the database.
It is the user's responsibility to adopt appropriate quality control tests using standard samples to confirm qualitative and quantitative information obtained with this method package.
Advance Cell Culture Media Analysis and Monitoring By LC-MS/MS