Liquid Chromatography / Mass Spectrometry (LC-MS)
The ever-changing demands of each unique industry require not only the right people but also the best technology. Companies require speed, sensitivity, and the flexibility to adapt to meet the new challenges required by their customers. For years, Shimadzu has been known as the leader in liquid chromatography products; now Shimadzu is being recognized as the leading manufacturer for both single and triple quadrupole mass spectrometers. Shimadzu offers the world's fastest LC-MS instrumentation all without compromising sensitivity - no longer settle for anything less than the best.
Time of Flight Instruments (Q-TOF)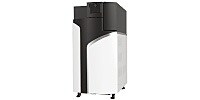 The LCMS-9030 quadrupole time-of-flight (Q-TOF) mass spectrometer integrates the world's fastest and most sensitive quadrupole technology with TOF architecture.
Triple Quadrupole LC-MS/MS Instruments
Single Quadrupole LCMS Instruments
A truly amazing single quadrupole mass spectrometer with unmatched sensitivity and speed, enabling quicker and more accurate detection of trace impurities in a variety of applications.
Utilizing patented ultrafast technology, the LCMS-2020 mass spectrometer delivers more information about your preparative runs, and enables you to collect the right peak.
Ultra-High Speed LCMS System for Multiplex Analysis
Innovative LCMS multiplexing technology using dedicated sample introduction streams and newly designed software control. QX maximizes laboratory profitability by keeping your capital investment working.
LCMS Medical Devices
Shimadzu offers Liquid Chromatography and Mass Spectrometry Class I medical devices for in vitro diagnostic use.
Microflow LC-MS/MS
The High Sensitivity you expect from a Low Flow System with the Ruggedness of HPLC covering the complete range from Micro to Semi-Micro
Additional LCMS Ion Sources

Optional laser diode thermal desorption (LDTD) ion source for rapid sample analysis screening in less than 4 seconds.
Software for LCMS

Shimadzu offers many different software platforms, from the main data acquisition and processing software known as LabSolutions to numerous overlay software programs designed to enhance the user experience for particular challenges like walkup solutions and clinical data review.
Solution System Packages