LC/MS/MS Method Package for Primary Metabolites
Ready-to-Use Analytical Conditions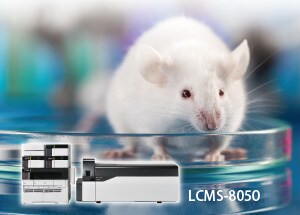 LC/MS/MS Method Packages available from Shimadzu deliver conditions for efficient and simultaneous multi-component analysis. They enable the user to quickly and easily implement complex methods without costly and laborious method development by providing sample preparation protocols, LC separation conditions, and MS acquisition parameters.
Ion pair or PFPP column method
This method package utilizes two separate chromatographic methods to analyze key components of central metabolic pathways. One analysis method uses ion-pair reagents to analyze 55 metabolites involved in the glycolytic system, TCA cycle, and pentose phosphate pathway. A separate analysis method uses a pentafluorophenylpropyl (PFPP) column to analyze 97 components, including organic acids that are incompatible with ion pair reagents. Nearly half of the compounds in the ion-pair method can be analyzed using the PFPP method if ion-pair reagents are not desired.
Supports the entire LCMS lineup
This method package supports the entire lineup of the latest Shimadzu UFMS triple quadrupole mass spectrometer series. The LCMS-8050 delivers best-in-class sensitivity along with the fastest scanning and polarity switching rates seen in any LCMS on the market.
Complete from Sample Preparation to Analysis
Protocols are included for the preparation of extracts from biological tissue, saving your lab time and money. Sample preparation instructions are written so that laboratories unfamiliar with extraction can follow prescribed steps for LC/MS/MS sample preparation.
Normalization of Multiple Sample Results
Since no two biological tissue samples are exactly alike, normalization of results must be performed when multiple samples are analyzed. This method package includes optimized analytical conditions for two internal standards to permit normalization across multiple samples.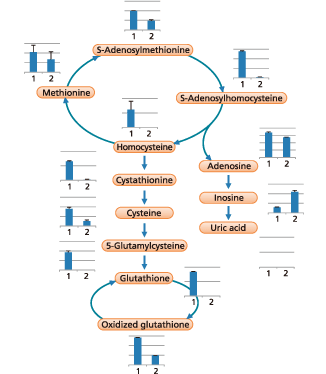 List of compounds for ion pair method
Glycolytic system
Nucleotides
2,3-Bisphosphoglyceric acid
3-Phosphoglyceric acid
(2-Phosphoglyceric acid)
Dihydroxyacetone phosphate
Fructose 1,6-bisphosphate
Glucose 1-phosphate
Glucose 6-phosphate
Glycerol 3-phosphate
Phosphoenolpyruvic acid
Pyruvic acid
Adenosine 3',5'-cyclic monophosphate
Adenosine diphosphate
Adenosine monophosphate
Adenosine triphosphate
Cytidine diphosphate
Cytidine monophosphate
Cytidine triphosphate
Guanosine 3',5'-cyclic monophosphate
Guanosine diphosphate
Guanosine monophosphate
Guanosine triphosphate
Thymidine diphosphate
Thymidine monophosphate
Thymidine triphosphate
Uridine diphosphate
Uridine monophosphate
Uridine triphosphate
Co-enzyme
Pentose-phosphate pathway
NAD
NADH
NADP
NADPH
6-Phosphogluconic acid
Erythrose 4-phosphate
Ribose 5-phosphate
Ribulose 5-phosphate
Sedoheptulose 7-phosphate
TCA cycle
Internal STDs
Acetyl coenzyme A
Succinyl coenzyme A
2-Morpholinoethanesulfonic acid
Methionine sulfone
Amino acids
Alanine
Arginine
Asparagine
Aspartic acid
Cysteine
Glutamic acid
Glutamine
Glycine
Histidine
Lysine
Methionine
Phenylalanine
Serine
Threonine
Tryptophan
Tyrosine
List of compounds for PFPP column method
Glycolytic system
Organic acids
Lactic acid
Pyruvic acid
4-Aminobutyric acid
Adenylsuccinic acid
Argininosuccinic acid
Cholic acid
Creatine
Nicotinic acid
Ophthalmic acid
Orotic acid
Pantothenic acid
Taurocholic acid
Uric acid
TCA cycle
2-Ketoglutaric acid
Aconitic acid
Citric acid
Fumaric acid
Isocitric acid
Malic acid
Succinic acid
Amino acids
Nucleosides and Nucleotides
4-Hydroxyproline
Alanine
Arginine
Asparagine
Aspartic acid
Asymmetric dimethylarginine
Citrulline
Cystine
Dimethylglycine
Glutamic acid
Glutamine
Glycine
Histidine
Homocystine
Isoleucine
Leucine
Lysine
Methionine sulfoxide
Ornitine
Phenylalanine
Proline
Serine
Symmetric dimethylarginine
Threonine
Tryptophan
Tyrosine
Valine
Adenine
Cytosine
Guanine
Thymine
Uracil
Xanthine
Adenosine
Cytidine
Guanosine
Inosine
Thymidine
Uridine
Adenosine 3',5'-cyclic monophosphate
Adenosine monophosphate
Cytidine 3',5'-cyclic monophosphate
Cytidine monophosphate
Guanosine 3',5'-cyclic monophosphate
Guanosine monophosphate
Thymidine monophosphate
Co-enzymes
FAD
FMN
NAD
Methylation and Transsulfuration cycle
Others
Cystathionine
Cysteine
Homocysteine
Methionine
2-Aminobutyric acid
Acetylcarnitine
Acetylcholine
Allantoin
Carnitine
Carnosine
Choline
Citicoline
Creatinine
Cysteamine
Dopa
Dopamine
Epinephrine
Histamine
Hypoxanthine
Kynurenine
Niacinamide
Norepinephrine
Serotonin
5-Glutamylcysteine
Glutathione
Oxidized glutathione
S-Adenosylhomocysteine
S-Adenosylmethionine
Internal STDs
2-Morpholinoethanesulfonic acid
Methionine sulfone
Remarks and Precautions
For Research Use Only. Not for Use in Diagnostic Procedures.
Shimadzu makes no warranty regarding the accuracy of information included in the database or the usefulness of information obtained from using the database.
It is the user's responsibility to adopt appropriate quality control tests using standard samples to confirm qualitative and quantitative information obtained with this method package.