Shimadzu's proteomics research solutions range from automated protein digestion platforms and ultra-fast mass spectrometers to innovative cloud based informatics. These platforms provide proteomics researchers automated workflows that increase reproducibility, lower analysis costs and enable data sharing worldwide. If your laboratory is struggling with tedious and time-consuming protocols, let us show you how to streamline your workflows and accelerate your research.
Proteomics Platforms & Solutions
Featured Proteomics Solutions
Rapid & Reproducible Blood Plasma Collection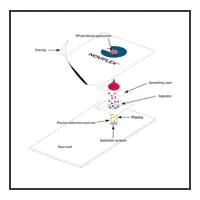 New Noviplex Cards (Novilytic Labs) greatly simplify plasma collection for metabolomics studies. This powerful "lab-on-a-card" technology rapidly generates a volumetric amount of plasma (2.5ul) from an unmeasured aliquot of whole blood in just minutes. Plasma can rapidly be generated from finger-sticks or mouse tail bleeds, eliminating the need for phlebotomy and venipuncture.
Features of Noviplex Card:
99% removal of red blood cells
Inter-card CV of 2% collection volume variation with 20% to 71% HCT
Proteins are deposited as a monolayer on drying
Metabolites are in protein monolayer