AS-10 Autosampler
(For automatic analysis of 60 samples)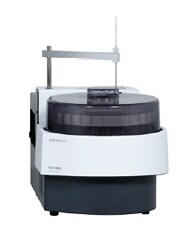 Multiple samples can be analyzed successively. The turntable results in a short path length for sample injection, which can reduce the rinse time.

Vials: 60 15- mL vials
         8 50-mL vials
Size: W290 x D508 x H300 mm (excluding arm)
Power supply: Single-phase 100 V, 50/60 Hz, 50 VA

Note: Requires a power cord.
Note: An additional rinsing port is optional (There is no automatic solvent supply).
         Rinsing Port Expansion Kit for AS-10.