Quadrupole Time-of-Flight Liquid Chromatograph Mass Spectrometer
Research-grade Q-TOF LCMS. Perform Critical Analysis with Confidence.
The LCMS-9030 quadrupole time-of-flight (Q-TOF) mass spectrometer is a powerful instrument that integrates the world's fastest and most sensitive quadrupole technology with TOF capabilities for accurate mass measurement.
The LCMS-9030 provides superior sensitivity for quantitative and qualitative analysis of samples over a wide concentration range, including ultra-trace compounds. Patented technologies ensure high resolution and excellent mass measurement accuracy (MMA), supporting structure elucidation and identification of unknown compounds. High throughput is achieved with Shimadzu's unique acceleration technologies designed for high-speed data acquisition.
High-Efficiency Quadrupole Technologies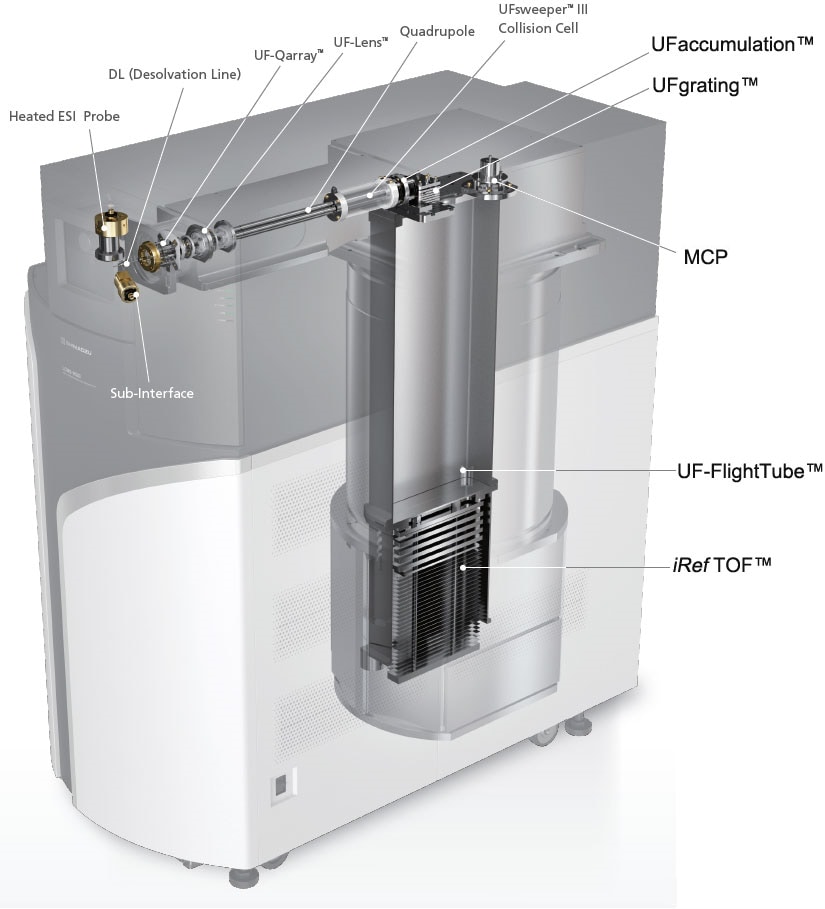 UFaccumulation™ (Pat. US 10020181)
Ion accumulation in the collision cell, synchronized perfectly with short cycles of data acquisition, maximizes sensitivity.
UFgrating™ (Pat. US 9048082)
Shimadzu's world-class manufacturing capability has enabled the ion acceleration electrode to be made with substantial mechanical strength. This grating is able to withstand the high voltages needed for ultrafast ion pulsing.
UF-FlightTube™ (Patent Pending)
Mass accuracy needs mass stability. Shimadzu's temperature-controlled UF-FlightTube requires less frequent calibration, enabling you to run more samples.
iRefTOF™ (Pat. US 8772708, 9490114)
A computationally ideal electrostatic field has become a reality. Meticulously manufactured plate electrodes are stacked to create a reflectron which turns ions with no compromise in resolution or sensitivity.
A Slim, Floor-Standing Design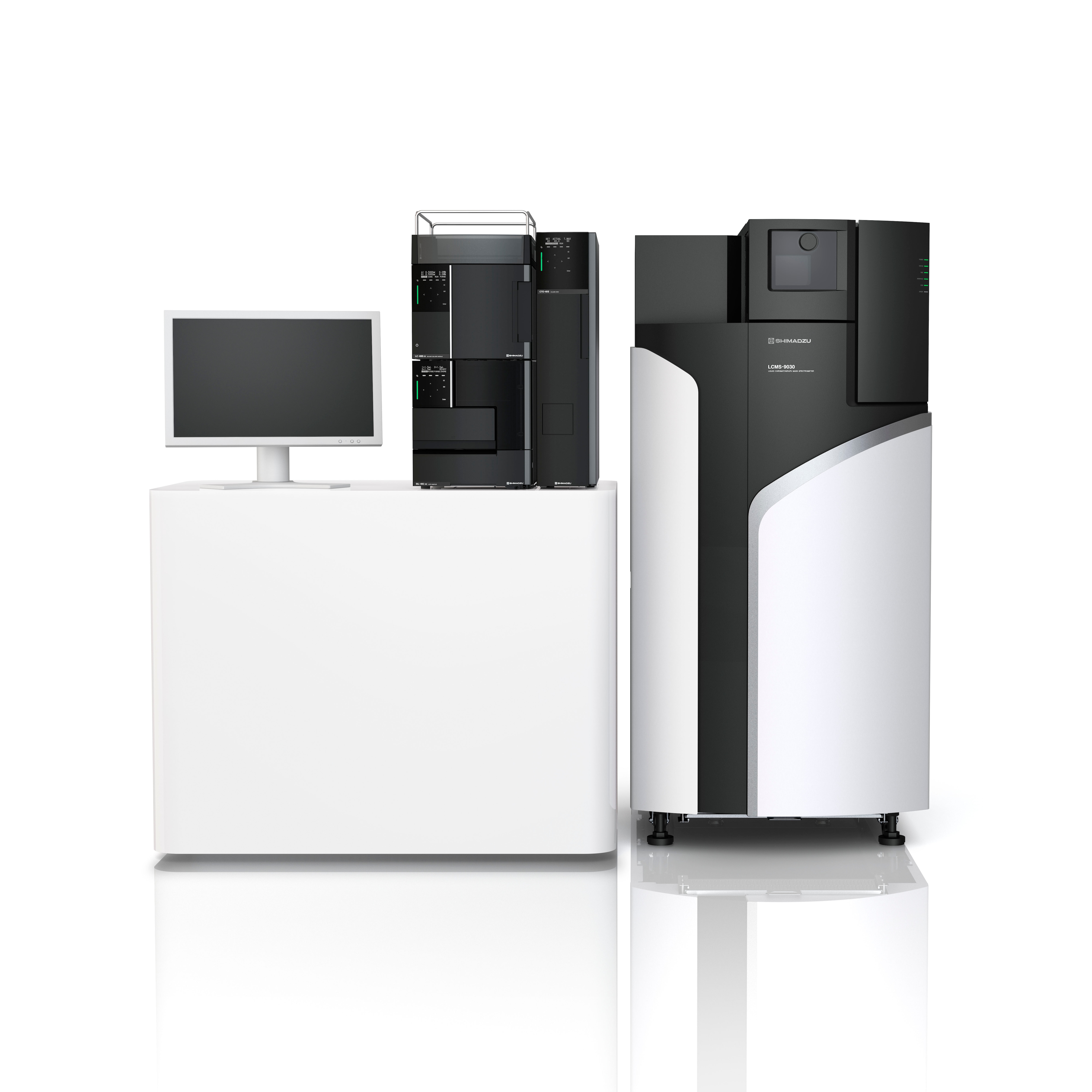 The simple and compact design conserves valuable laboratory space.
 
LCMS-9030 Receives an iF DESIGN AWARD 2019
Movies
Understand the rationale behind the Q-TOF LC/MS that stably sustains sub-ppm mass accuracy

High-resolution, accurate-mass (HRAM) mass spectrometers (MS) are a class of MS instrumentation with capability to resolve complex sample matrix and to allow identification of compounds by measuring their accurate masses. In particular, those coupled to liquid chromatograph (HRAM LC/MS) have been used extensively for structural elucidation of unknown compounds primarily in chemical industry (impurity analysis) and biological researches (proteomics, metabolomics, lipidomics), but also increasingly in forensic science, food safety and environmental testing. Given the recent reduction of instrumentational cost, it will not take many more years until HRAM analysis becomes a versatile tool for all industries and researches.

The webinar describes various metrics that are relevant to statistical interpretation of MMA, which explain why mass resolution of 30,000 is more than sufficient for mass measurement at sub-ppm accuracy. Using the Shimadzu LCMS-9030 quadrupole time-of-flight MS, the rationale and strength of instrument stability for consistently achieving sub-ppm MMA has been demonstrated in small molecules.


LCMS-9030 Quadrupole Time-of-Flight Liquid Chromatograph Mass Spectrometer

The LCMS-9030 quadrupole time-of-flight (Q-TOF) mass spectrometer integrates the world' s fastest and most sensitive quadrupole technology with TOF architecture. A product of Shimadzu's engineering DNA, speed and effortless performance enable the LCMS-9030 to address qualitative and quantitative challenges with genuine confidence and ease.

Improving Extractables and Leachables Analysis in Food Contact Materials Using Shimadzu's Q-TOF

Leachables and extractables pose risks to food contact materials. Shimadzu's Q-TOF mass spectrometer provides fast, reliable analysis of these contaminants in food products.


Webinar - Affinity Selection-Mass Spectrometry for the Discovery of Pharmacologically Active Natural Products

LabSolutions Insight Library Screening Data Processing

This video describes the simple steps it takes to easily process QTOF or QQQ data using the library search function within LabSolutions Insight, Shimadzu's data processing software. Cleary demonstrated is how to load a batch, set up flags, search within a library and report the final result.

{"title":"Downloads","description":"Download the latest brochure.","source":"product","key":3146,"max":"30","filter_types":["brochures"],"link_title":"View other Downloads","link_url":"","pdf_links":[]}
{"title":"Applications","source":"product","key":3146,"max":"3","filter_types":["applications","application_note","posters"],"link_title":"Learn more","link_url":"\/products\/liquid-chromatograph-mass-spectrometry\/quadrupole-time-of-flight-lc-msms\/lcms-9030\/applications.html","config_list":[],"page_links":[]}
{"title":"Technical Documents","source":"product","key":3146,"max":"3","filter_types":["technical","technical_reports","white_papers","primers"],"link_title":"Learn more","link_url":"\/products\/liquid-chromatograph-mass-spectrometry\/quadrupole-time-of-flight-lc-msms\/lcms-9030\/applications.html#tbaleAnchor_technical","config_list":[],"page_links":[]}
{"title":"Manuals","source":"product","key":3146,"max":"3","filter_types":["manuals"],"link_title":"Learn more","link_url":"\/products\/liquid-chromatograph-mass-spectrometry\/quadrupole-time-of-flight-lc-msms\/lcms-9030\/applications.html#tbaleAnchor_manual","config_list":[],"page_links":[]}