LC/MS/MS Method Package for Residual Pesticides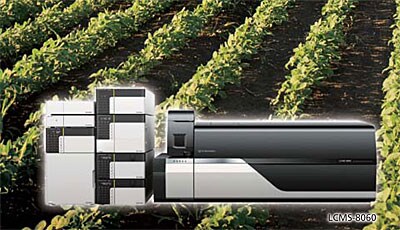 Pesticides are regulated by numerous laws at the federal and at the state level, including how pesticides are manufactured, distributed, used, and what levels are safe for consumption. LCMS techniques for pesticide analysis are quickly becoming adapted by many laboratories due to the ability to analyze more pesticides in a shorter amount of time. The LCMS Method Package for Residual Pesticides (Version 3) contains 6557 MRM transitions for 836 pesticides, as well as software that automates optimization and streamlines data processing.
Create Methods Easily from the Database
The MRM information in this method package is controlled by LabSolutions Connect (optional software package). With LabSolutions Connect, you can call up the information needed from the database by loading a text file, and then easily create an analysis method.
In addition, this method package contains text files (search lists) of components subject to the regulations, enabling the easy creation of an analysis method file for these components.
The database and search lists can be customized for use in conjunction with components to be analyzed by the user.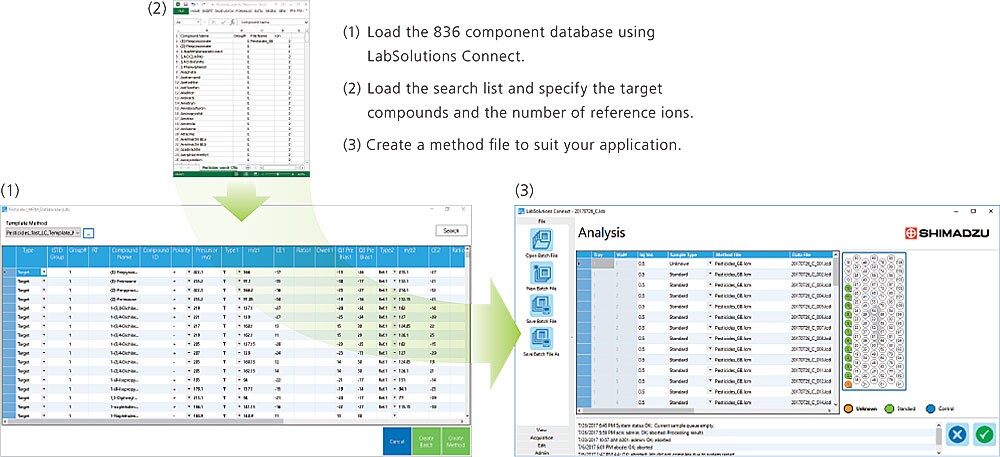 Improve the Shape of Peaks for Polar Compounds via Co-Injection

Co-Injection of Water Using the Pretreatment Mode in the SIL-30AC Autosampler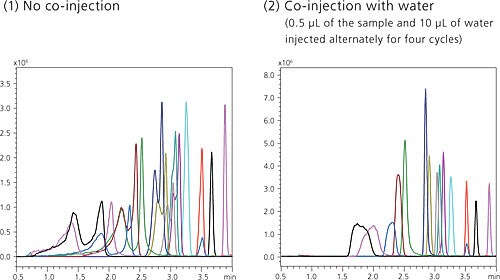 Since QuEChERS extractions are often high in organic solvent concentration, poor peak shape or peak splitting is typically a problem if the extract is injected directly. (Figure 1). This method package contains a sample pretreatment program for the SIL-30AC that improves peak shape by co-injecting water (Figure 2). This pretreatment program for co-injection is incorporated into the high-speed simultaneous analysis methods for 508 and 646 residual pesticides.

Note: The co-injection mode is supported only by the SIL-30AC.
Easy Analysis of Multiple Analytes with LabSolutions Insight
When analyzing data for multiple components and analytes, everything from batch analysis to the creation of reports can be performed by LabSolutions Insight.
LabSolutions Insight is a software program equipped with quantitative analysis and screening functions. In the analysis window, information is displayed for each target compound and set of measurement data, and both quantitative values and area values can be listed. This allows the user to select the easiest display method for checking the data in accordance with the workflow. In addition, by using the flagging function, only the results exceeding specified standard values are displayed, improving the analytical throughput of multiple components and analytes subject to the regulations.