Method Package for Water Quality Analysis
Method Package for Water Quality Analysis (Golf Course Pesticides and Pesticides Targeted for Water Quality Control)
There is a growing concern about many of the pesticides used to maintain the turf at golf courses due to the possibility of pesticide runoff contaminating nearby fresh water sources and tap water. Pesticides in drinking water are regulated by the United States Environmental Protection Agency as well as at the state level.

In this method package, analytical conditions and compound data are provided for 44 pesticides commonly used to treat turf at golf courses. Pesticides that are commonly monitored by water quality control agencies are also included. This package enables analysis without the troublesome process of investigating the separation conditions required for LC/MS/MS analysis, or optimization of the MS parameters for each of the target compounds. As a result, batch analysis of multiple components can be efficiently performed.
Analysis Example
Measurements of golf course wastewater were performed. MRM chromatograms (simazine, diazinon, isoxathion, and triflumizole as examples) are shown for sample solutions (no standard samples added), and sample solutions with either 10 μg/L or 50 μg/L of standard samples added. In the wastewater used here, no pesticides were detected. However in the sample solutions with the standard samples added, the concentrations at 1/3 to 1/10 of the indicator values were all detected with excellent S/N ratios, and no interference from contaminating components.


In addition, an example is shown of the analysis of 32 pesticides targeted for water quality control using this method package. Excellent repeatability and linearity were obtained over 6 consecutive analyses of the standard samples for each pesticide. Quantitative limits falling below 5 times the target value concentrations are also shown for all of the components. (In actual sample analysis, during pretreatment, samples are concentrated 500 times with solid-phase columns. In reality, detection of 5 times the target value concentration is required in order to detect 1/100 of the target value concentration.)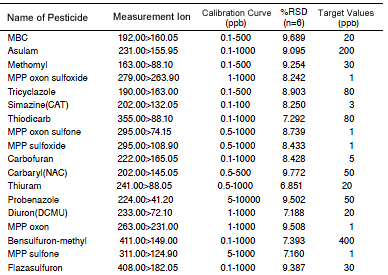 List of Registered Compounds
Golf Course Pesticides
Acetamiprid
Fenitrothion
Propyzamide
Azoxystrobin
Flazasulfuron
Pyributicarb
Bensulide
Flutolanil
Siduron
Boscalid
Harosulfuron-methyl
Simazine
Butamifos
Imidacloprid
Simeconazole
Cafenstrole
Iprodione
Tebuconazole
Cafenstrole metabolite
Isoprothiolane
Tebufenozide
Clothianidin
Isoxathion
Terbucarb
Cumyluron
Mecoprop
Tetraconazol
Cyclosulfamron
Mepronil
Thiamethoxam
Cyproconazole
Metalaxyl
Thifluzamide
Diazinon
Oxaziclomefone
Triclopyr
Difenoconazole
Pencycuron
Triflumizole
Dithiopyr
Pendimethalin
Triflumizole metabolite
Ethoxysulfron
Propiconazole
Pesticides Targeted for Water Quality Control
2,4-D
Fipronil
MPP sulfone
Asulam
Flazasulfuron
MPP sulfoxide
Azoxystrobin
Halosulfuron-methyl
Probenazole
Bensulfuron-methyl
Iprodione
Siduron
Bensulid(SAP)
MBC
Simazine(CAT)
Bentazone
Mecoprop(MCPP)
Thiobencarb
Carbaryl(NAC)
Methomyl
Thiodicarb
Carbofuran
MPP
Thiuram
Carpropamid
MPP oxon
Triclopyr
Diuron(DCMU)
MPP oxon sulfone
Tricyclazole
Dymuron
MPP oxon sulfoxide
Remarks and Precautions


Shimadzu makes no warranty regarding the accuracy of information included in the database or the usefulness of information obtained from using the database.


Be sure to perform tests using standard samples to confirm qualitative and quantitative information obtained with the given system.


To reliably identify registered substances using this database, measure samples using the instrument parameters specified in the method template files included in the product.