Liquid Chromatography (HPLC)
HPLC has, without a doubt, grown to be the most popular and versatile of all analytical techniques in laboratories today. HPLC can be used for applications in such diverse industries as food and beverages, forensics, pharmaceuticals, drug discovery, environmental, and petrochemical. With a wide range of systems and components, including data systems, and outstanding reputation for long life, precision, and practically maintenance-free operation, Shimadzu has the resources to meet user requirements in nearly every market and application.
High Performance Liquid Chromatography Product Lineup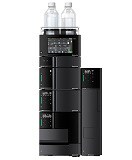 - Experience New Benchmarks - The Nexera series is a family of HPLC systems that marries these AI and IoT enhancements to set new industry
Integrated HPLC balancing performance and ease-of-use
HPLC/SFC Application Specific Systems
Comprehensive integration of instrument, supplies and workflow
Specific applications accomplished quickly and with a minimum of effort.
Supercritical fluid extraction and chromatography (SFC/SFE) in a single system
Analytical systems optimized for GPC/SEC
Preparative HPLC/SFC Systems
Rugged and reliable HPLC purification of compounds
Rugged and reliable SFC purification of compounds
HPLC Solution System Packages
HPLC Accessories & Components