Supercritical Fluid Extraction / Supercritical Fluid Chromatograph
Supercritical Fluid Extraction/Chromatograph System
Conventional LC/MS and GC/MS face these challenges.

Time-consuming sample preparation

Degradation of labile compounds during sample preparation

Low abundant peaks hidden in noise
Nexera UC provides uncompromising solutions.
Fully automated on-line sample preparation and analysis

Even labile compounds can be analyzed without degradation

Unified speed of analysis, sensitivity, and resolution
Just another chromatographic technique... or the only technique you'll need?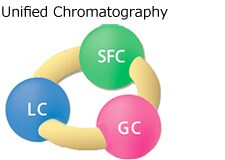 Nexera UC improves your analytical workflow by utilizing a completely new separation technology, Unified Chromatography, which unites sample preparation, analysis with various separation modes, and high-sensitivity detection.
Comparison of QuEChERS sample preparation and Nexera UC in the analysis of residual pesticides
A typical sample preparation takes 35 minutes and requires several manual steps. With Nexera UC, the same sample can be ready for on-line SFE/SFC analysis in as little as five minutes with only a few simple sample preparation steps.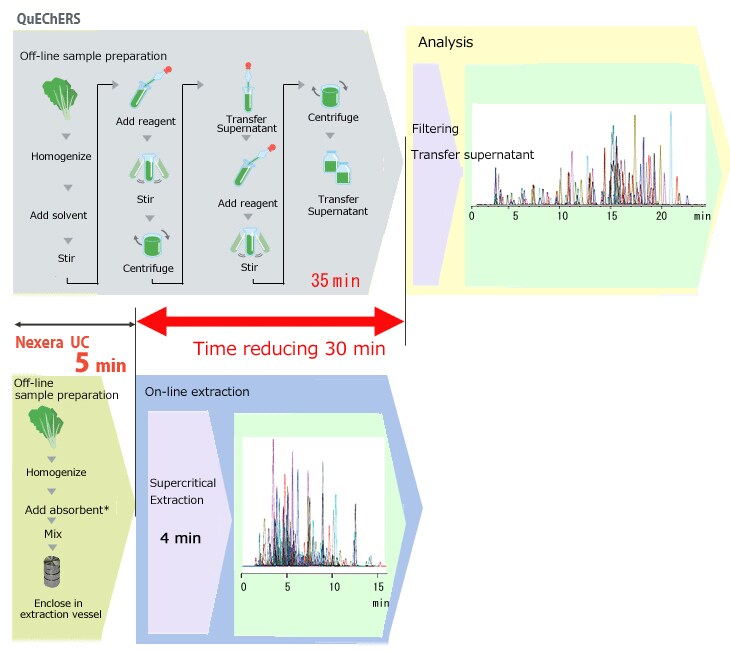 * "Miyazaki Hydro-Protect", Patented in Japan No.3645552
Hundreds of compounds are simultaneously analyzed with Nexera UC. These include pesticides that are usually analyzed with LC and LC/MS/MS or GC and GC/MS/MS. Nexera UC enables analysis of compounds over a wide polarity range.
Awards
2015 R&D magazine Award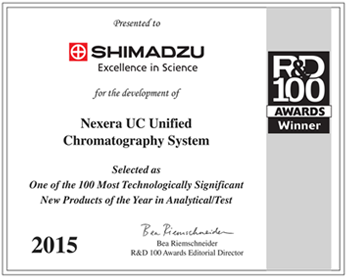 The award from R&D magazine recognizes Shimadzu's Nexera UC system as one of the 100 most technically significant new products of the year in the analytical and testing category.

R&D Magazine chose the Nexera UC system because its fully automated technology opens up new analytical opportunities in many fields, including food products, drug discovery and delivery, chemicals, pharmaceuticals, and cleaning validation.
With industry-leading throughput and superior levels of sensitivity, the system eliminates the need for complicated sample pre-treatment and reduces the possibility of human error during analysis.
Pittcon Editors' Gold Award 2015
The Pittcon Editors' Awards recognize the most innovative products presented at Pittcon for the first time based on votes by the media corps.
Editors awarded the Nexera UC for its ability to provide a workflow solution that addresses the bottleneck in real-world sample analyses.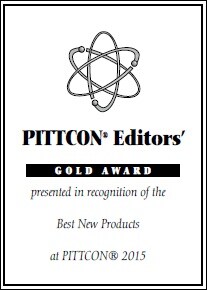 Movies
Simplifying Medicinal Chemistry Workflows Using Shimadzu Nexera UC Prep

Medicinal chemists need to quickly purify a wide range of drug candidates and intermediates. The Shimadzu Nexera UC Prep semi-preparative supercritical fluid chromatography system delivers outstanding performance in a compact footprint to provide you with the fastest, most accurate and most reliable results.


Nexera UC Supercritical Fluid Extraction/Chromatograph System Narration Eddition
{"title":"Downloads","description":"Download the latest brochure.","source":"product","key":3105,"max":"30","filter_types":["brochures"],"link_title":"View other Downloads","link_url":"","pdf_links":[]}
{"title":"Applications","source":"product","key":3105,"max":"3","filter_types":["applications","application_note","posters"],"link_title":"Learn more","link_url":"\/products\/liquid-chromatography\/sfc\/nexera-uc\/applications.html","config_list":[],"page_links":[]}
{"title":"Technical Documents","source":"product","key":3105,"max":"3","filter_types":["technical","technical_reports","white_papers","primers"],"link_title":"Learn more","link_url":"\/products\/liquid-chromatography\/sfc\/nexera-uc\/applications.html#tbaleAnchor_technical","config_list":[],"page_links":[]}
{"title":"Manuals","source":"product","key":3105,"max":"3","filter_types":["manuals"],"link_title":"Learn more","link_url":"\/products\/liquid-chromatography\/sfc\/nexera-uc\/applications.html#tbaleAnchor_manual","config_list":[],"page_links":[]}