Benchtop MALDI-TOF Imaging Starter Kit
Compact, Easy-to-use, Comprehensive Imaging Solution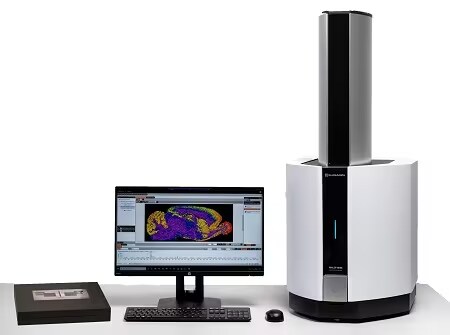 Users now have the opportunity to explore MALDI imaging applications at an entry level price using industry-standard benchtop systems with the Shimadzu Benchtop MALDI-TOF Imaging Kit solution.
Compact benchtop footprint
Custom all-you-need imaging starter kit
Simplified software wizard workflow
Suitable for both inexperienced and expert users
Quality imaging mass spectrometry analysis
Easy upgrade of your existing Shimadzu benchtop MALDI instruments
Ideal for teaching and method development
Movies
Benchtop MALDI-TOF Imaging Starter Kit

Compact, Affordable, MALDI Imaging: the application of Mass Spectrometry imaging is rapidly growing but is still only utilised by experienced scientists.

MALDI Mass Spectrometry Imaging for the Masses: An Introduction to MALDI MSI

Mass spectrometry imaging (MSI) began its development in 1997 with the publication of "Molecular Imaging of Biological Samples: Localization of Peptides and Proteins Using MALDI-TOF MS" by Richard Caprioli et al. in Analytical Chemistry. Over the past 25 years, there have been numerous developments in terms of samples preparation, matrix application, and instrumentation that have enabled increases in figures of merit related to MSI. Each improvement is accompanied by an increase in method complexity and price tag, while many users are seeking an entry-level instrument to perform simpler experiments that still produce spatially resolved mass data. To this end, we have tested a benchtop Shimadzu MALDI-8020 capable of MALDI MSI and employed simpler sample preparation techniques. As an introduction to MSI, we share the optimization of relevant parameters and matrices as well as the results of relevant imaging experiments.
{"title":"Downloads","description":"Download the latest brochure.","source":"product","key":4664,"max":"30","filter_types":["brochures"],"link_title":"View other Downloads","link_url":"","pdf_links":[]}
{"title":"Applications","source":"product","key":4664,"max":"3","filter_types":["applications","application_note","posters"],"link_title":"Learn more","link_url":"\/products\/maldi\/ms-systems\/benchtop-maldi-tof-imaging-starter-kit\/applications.html","config_list":[],"page_links":[{"type":"page","link_title":"Analysis of lipids in full rat brain with 30 \u03bcm and 50 \u03bcm spacing","link_url":"\/products\/maldi\/ms-systems\/benchtop-maldi-tof-imaging-starter-kit\/applications.html#anchor_0","time":""},{"type":"page","link_title":"Large molecule imaging (protein\/ on-tissue digestion) with 50 \u03bcm spacing","link_url":"\/products\/maldi\/ms-systems\/benchtop-maldi-tof-imaging-starter-kit\/applications.html#anchor_1","time":""}]}
{"title":"Technical Documents","source":"product","key":4664,"max":"3","filter_types":["technical","technical_reports","white_papers","primers"],"link_title":"Learn more","link_url":"\/products\/maldi\/ms-systems\/benchtop-maldi-tof-imaging-starter-kit\/applications.html#tbaleAnchor_technical","config_list":[],"page_links":[]}
{"title":"Manuals","source":"product","key":4664,"max":"3","filter_types":["manuals"],"link_title":"Learn more","link_url":"\/products\/maldi\/ms-systems\/benchtop-maldi-tof-imaging-starter-kit\/applications.html#tbaleAnchor_manual","config_list":[],"page_links":[]}