inspeXio SMX-225CT FPD HR Plus
Microfocus X-Ray CT System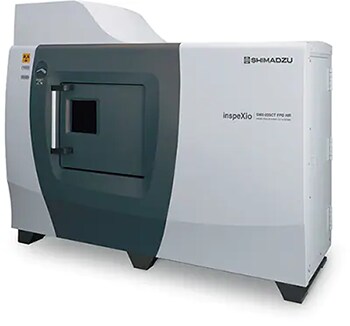 The most versatile x-ray computed tomography system for a wide variety of materials, from composites to die-cast parts
The inspeXio SMX-225CT FPD HR Plus is a highly versatile micro-focus x-ray computed tomography system that produces high-contrast and high-resolution x-ray images for accurate internal structure analysis of materials, from aluminum die-cast parts to carbon fiber reinforced plastics.
The proprietary control and reconstruction software facilitates intuitive operation and high-throughput data analyses by automatically optimizing the scan parameters.
In addition, it is easy to load and position samples, and the high-performance computing system aids in testing many samples in a small amount of time.
{"title":"Downloads","description":"Download the latest brochure.","source":"product","key":3489,"max":"30","filter_types":["brochures"],"link_title":"View other Downloads","link_url":"","pdf_links":[]}
{"title":"Applications","source":"product","key":3489,"max":"3","filter_types":["applications","application_note","posters"],"link_title":"Learn more","link_url":"\/products\/non-destructive-testing\/microfocus-x-ray-ct-system\/inspexio-smx-225ct-fpd-hr-plus\/applications.html","config_list":[],"page_links":[]}
{"title":"Technical Documents","source":"product","key":3489,"max":"3","filter_types":["technical","technical_reports","white_papers","primers"],"link_title":"Learn more","link_url":"\/products\/non-destructive-testing\/microfocus-x-ray-ct-system\/inspexio-smx-225ct-fpd-hr-plus\/applications.html#tbaleAnchor_technical","config_list":[],"page_links":[]}
{"title":"Manuals","source":"product","key":3489,"max":"3","filter_types":["manuals"],"link_title":"Learn more","link_url":"\/products\/non-destructive-testing\/microfocus-x-ray-ct-system\/inspexio-smx-225ct-fpd-hr-plus\/applications.html#tbaleAnchor_manual","config_list":[],"page_links":[]}