Differential Scanning Calorimeter
DSC-60 Plus addresses the various DSC applications.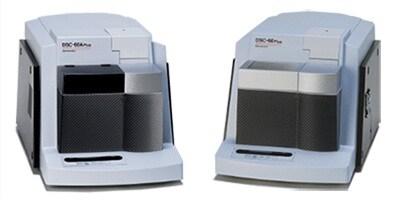 DSC (Differential Scanning Calorimeter) is an indispensable thermal analyzer for materials characterization in R&D and quality control applications in such areas as polymers, pharmaceuticals, electronic parts , foods , etc . It offers the sensitivity and easy operation required for the development of high-performance, highly functional new materials.
A DSC-60A Plus model with a built-in autosampler is also available for measuring up to 24 samples automatically.
By overlaying temperature-modulated results onto results obtained by increasing the temperature at a constant rate, Temperature Modulated DSC (Option) can easily measure specifi­c heat, or can measure multiple phenomena that could not be separated using standard DSC systems.
{"title":"Downloads","description":"Download the latest brochure.","source":"product","key":3508,"max":"30","filter_types":["brochures"],"link_title":"View other Downloads","link_url":"","pdf_links":[]}
{"title":"Applications","source":"product","key":3508,"max":"3","filter_types":["applications","application_note","posters"],"link_title":"Learn more","link_url":"\/products\/thermal-analysis\/differential-scanning-calorimeters\/dsc-60-plus-series\/applications.html","config_list":[],"page_links":[]}
{"title":"Technical Documents","source":"product","key":3508,"max":"3","filter_types":["technical","technical_reports","white_papers","primers"],"link_title":"Learn more","link_url":"\/products\/thermal-analysis\/differential-scanning-calorimeters\/dsc-60-plus-series\/applications.html#tbaleAnchor_technical","config_list":[],"page_links":[]}
{"title":"Manuals","source":"product","key":3508,"max":"3","filter_types":["manuals"],"link_title":"Learn more","link_url":"\/products\/thermal-analysis\/differential-scanning-calorimeters\/dsc-60-plus-series\/applications.html#tbaleAnchor_manual","config_list":[],"page_links":[]}