Internal Observations of Electrodes and Separators (X-ray CT)
X-ray fluoroscopy systems offer non-destructive observations of the internal structures of objects. They are effective instruments for identifying the cause of failure of industrial products.
By simplifying the non-destructive tomographic imaging and 3D imaging of the interior of objects, observations of internal shapes, dimensional measurements, and density observations, these systems are powerful tools for defect analysis and quality control.
These are images of the electrodes and separators on an arbitrary cross-section.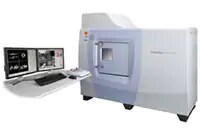 Industrial X-ray CT systems offer non-destructive internal observations of objects. A CT system with submicron-level resolution is effective for clearly identifying the internal status of complex electronic components. These systems are employed for final quality control in the battery production process.