Tensile Test on Carbon Fibers (Reference Standards: ISO 11566:1996 / JIS R 7606:2000)
Carbon fibers are essential components of carbon fiber reinforced plastics (CFRPs). They are important industrial materials because their specific gravity is 1/4 and material strength is seven times higher as compared to general ferrous materials. This experiment introduces a tensile test on a single filament of carbon fiber in accordance with the standards
Measurements and Jigs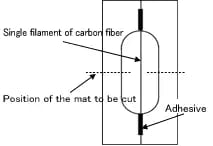 In this test, the sample is fixed on a specimen mat made of a metal or resin sheet and attached on the grip as shown in Fig. 1 and then a tensile test is performed. The standards provide a detailed explanation about the shape of the mat, type of adhesive used to place a carbon fiber on the mat, and procedures to place the carbon fiber. (For details, refer to the standards.)
In the test, a clip type grip is used to adjust the clamping force according to the strength of the sample.
Measurement Results

 
Table 1 - Test Conditions
| Item | Setting Value |
| --- | --- |
| Test Speed | 1mm/min |
| Grip spac | 25mm |
Table 2 - Test Results (Mean Value)
| Sample Name | Diameter | Tensile Strength | Breaking Elongation |
| --- | --- | --- | --- |
| Carbon Fiber | 6μm | 7.1GPa | 2.84% |
| | |
| --- | --- |
| Testing machine | MST-I Type HR |
| Title | 1 N clip type grip (with rubber-coated grip faces), X-Y stage |
| Title | TRAPEZIUM X (Single) |
Micro Strain Tester
Micro Autograph MST-I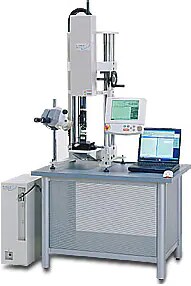 Features
High-Precision Displacement Measurement
A high-precision linear sensor ensures high displacement measurement precision (displacement display resolution of 0.02 μm, and displacement measurement precision of ±0.2 μm up to 5 mm displacement).
Measurement of Micro Test Forces
A wide range of load cells from 0.5 N to 2 kN assures a testing force measurement precision of ±1 % from a minimum load of 2 mN.
High-Rigidity Frame
The frame has an extremely high rigidity of 45 kN/mm so that highly reliable micro displacement measurement can be performed.
Wide Range of Options
An X-Y stage, stereo microscope and other options allow positioning and observation of micro samples to be performed with ease. The optional heating plate allows samples to be evaluated in a heated state.
Data Processing Software TRAPEZIUM2
The TRAPEZIUM2 software that already has a proven track record in the Autograph Series, can be used on the Micro Autograph, too. Its range of high-performance functions, including visual operating environment, ultra-high speed sampling, navigation function, and net upload function, can be fully utilized with ease.