Bioprocess and Cell Culture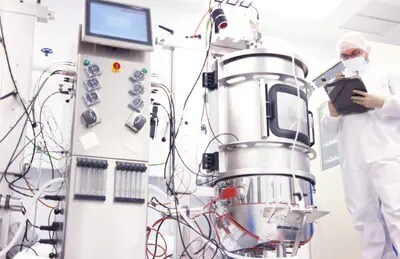 Optimization and control of cell culture processes are essential to increase production efficiency of biopharmaceuticals. In the field of cell therapy including regenerative medicines, enhanced control of the culture process is also becoming important to reduce cell variability and improve consistency of mass production of the cells. Comprehensive monitoring of culture supernatant components gives researchers useful information for these purposes. However, process monitoring is often limited to measurement of pH, dissolved gases, and some small compounds such as glucose, glutamine, lactate, and ammonia in culture supernatant. By harnessing the power of LC-MS/MS analysis, the list of metabolites and basal medium components expands up to 95 relevant compounds that provide a more complete picture of cell culture health. Adding powerful visualization tools allows a time domain view of changes to the culture that gives you the information to adjust media conditions to maintain optimal production.
When scaling up new cell lines for production of an expressed product, LCMS-Q-TOF and MALDI-TOF mass spectrometry solutions can provide invaluable data to identify metabolites and waste products that could interfere with efficient production. Whether your goals are identifying cell differentiation states or routine monitoring of an established bioprocess, Shimadzu has innovative solutions to meet your needs.
Related Products
C2MAP Cell Culture Media Analysis Platform