Telimmune Plasma Separation Cards
Simple, Rapid, Reproducible Collection of Plasma
Shimadzu Scientific Instruments has partnered with Telimmune TM (formerly Novilytic) to offer a powerful, new technology for the rapid generation of plasma from whole blood.
Telimmune (formerly Noviplex) Plasma Separation Cards are simple, powerful microsampling tools used to collect volumetric samples of plasma from non-volumetric applications of whole blood in just minutes. An un-measured application from a finger-stick, mouse tail-bleed (or other source) is all that is required to collect a volumetric plasma sample in only three minutes. Tellimmune Cards can be used as a single step, solid-phase method for sample preparation and analyte extraction, eliminating the need for time consuming techniques such as solid phase extraction, centrifugation and evaporation.
The Telimmune Plasma Separation Cards are available in two formats - the original Uno Card and the Duo Card which collects two identical plasma samples.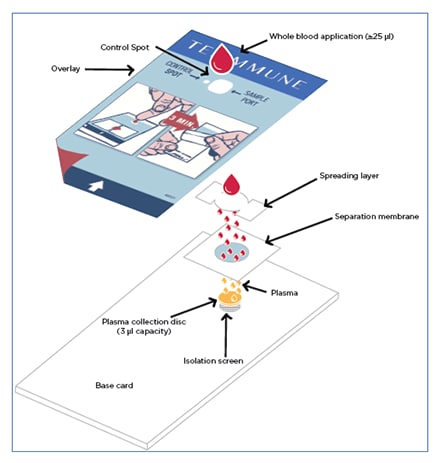 How it works
When a whole blood drop is applied to the card, it passes through a spreading layer and separation membrane which removes red blood cells, resulting in 3 µL of plasma on the collection disc.
|   | Uno | Duo |
| --- | --- | --- |
| Number of Plasma Specimens | 1 | 2 |
| Minimum Blood Volume Required | 25 µL | 60 µL |
| Plasma Volume Per Specimen | 3 µL | 3 µL |
| Total Plasma Volume Collected Per Card | 3 µL | 6 µL |
The Telimmune Uno Card collects a single ~3 µL plasma sample from one blood drop (25 µL – 75 µL), and the Telimmune Duo Card prepares two plasma samples (~3µL each) from a single application of blood (60 µL – 100 µL). Once collected and dried for 15 minutes, the plasma collection disc can be removed for immediate extraction and analysis, and is stable for short-term storage or shipment worldwide without the need for dry ice or biohazard classification. The technology is ideal for LC-MS/MS applications including therapeutic drug monitoring, pharmacokinetic studies, and animal research.
Telimmune offers analytical tools, methods, and services for application by investigators working in various segments of the health, biological and environmental sciences. Telimmune specializes in the application of quantitative LC/MS/MS tandem mass spectrometry to provide researchers with reliable results permitting identification and comparative study of peptides, metabolites, drugs, and other biomarkers.
Properties of the Telimmune Card:
99% removal of red blood cells (based on Hb levels in plasma).
Plasma sampling volumes of ~3 µL (6 µL DUO).
Inter-card CV of ~1% (~3% for DUO) in plasma collection volume at constant hematocrit (HCT).
Inter-card CV of 2% collection volume variation with 20% to 71% HCT
Shelf life of 24 months under storage conditions of -5°F to 110°F (-23C to 43C).
FDA Class 1 Device. Regulation Number: 864.3250, Product Code: NNK.
Significant advantages of Telimmune Card technology include:
Rapid sample preparation for MS-based analysis, while maintaining assay reproducibility and selectivity.
Volumetric plasma sample collection using an unmeasured application of whole blood (1-2 drops).
Specimen volumes as low as 25 µL.
Ability to collect samples in remote locations and from subjects where venipuncture is difficult
-Eliminates need for cold chain storage, centrifugation, and biohazard classification.
Exceptional reproducibility independent of hematocrit.
Additional Scientific Reports
{"title":"Downloads","description":"Download the latest brochure.","source":"product","key":4675,"max":"30","filter_types":["brochures"],"link_title":"View other Downloads","link_url":"","pdf_links":[]}
{"title":"Applications","source":"product","key":4675,"max":"3","filter_types":["applications","application_note","posters"],"link_title":"Learn more","link_url":false,"config_list":[],"page_links":[]}
{"title":"Technical Documents","source":"product","key":4675,"max":"3","filter_types":["technical","technical_reports","white_papers","primers"],"link_title":"Learn more","link_url":"#tbaleAnchor_technical","config_list":[],"page_links":[]}
{"title":"Manuals","source":"product","key":4675,"max":"3","filter_types":["manuals"],"link_title":"Learn more","link_url":"#tbaleAnchor_manual","config_list":[],"page_links":[]}