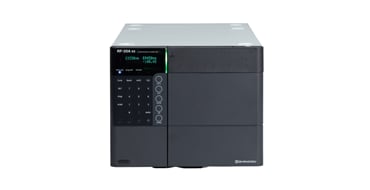 Experience exquisite sensitivity with RF-20A and RF-20Axs fluorescence detectors for HPLC and UHPLC separations. Built with maintenance in mind, both the cell and lamp replacement are accessed through the front panel - no additional position adjustment is required. Monitor two EX and EM wavelength pairs simultaneously, or up to four pairs with LabSolutions software control. The RF-20xs has superior S/N performance due to its temerature controlled flow cell.
RF-20A and RF-20Axs Specifications
RF-20A has a wavelength range of 200 to 650 nm.
RF-20AXS has a wavelength range of 200 to 750nm.
Optional PMT or Photo-multiplier (both) to extend to 900nm
Both detectors have wavelength accuracy of ±2 nm and precision of ±0.2nm.
Superior with signal-to-noise ratio of at least 1200 for RF-20A and 2000 for RF-20Axs, allowing ultrafast analysis of trace-level analytes.
Standard cell with a 12uL volume, or, a semi-micro cell with 3uL volume are available.
Operating temperature 4 to 35°C.
{"title":"Downloads","description":"Download the latest brochure.","source":"product","key":3135,"max":"30","filter_types":["brochures"],"link_title":"View other Downloads","link_url":"","pdf_links":[]}
{"title":"Applications","source":"product","key":3135,"max":"3","filter_types":["applications","application_note","posters"],"link_title":"Learn more","link_url":"\/products\/liquid-chromatography\/hplc-components-accessories\/rf-20arf-20axs\/applications.html","config_list":[],"page_links":[]}
{"title":"Technical Documents","source":"product","key":3135,"max":"3","filter_types":["technical","technical_reports","white_papers","primers"],"link_title":"Learn more","link_url":"\/products\/liquid-chromatography\/hplc-components-accessories\/rf-20arf-20axs\/applications.html#tbaleAnchor_technical","config_list":[],"page_links":[]}
{"title":"Manuals","source":"product","key":3135,"max":"3","filter_types":["manuals"],"link_title":"Learn more","link_url":"\/products\/liquid-chromatography\/hplc-components-accessories\/rf-20arf-20axs\/applications.html#tbaleAnchor_manual","config_list":[],"page_links":[]}