UV-Vis & UV-Vis-NIR Spectroscopy
UV-Vis & UV-Vis-NIR Product Lineup
UV-Vis & UV-Vis-NIR Software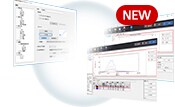 Analytical Data System for UV-Vis
One advanced software to meet all your UV-Vis-NIR spectroscopy measurement needs. Features simple design, smart operations and seamless data analysis/output. With automatic features and advanced evaluation functions built-in, post run calculations and Pass/Fail are obtained within seconds of measurements. Additionally, features advanced modes such as Time Course Evaluation and Color measurements for more advanced analysis.
Spectroscopic Beer Analysis System
User-friendly software coupled with Shimadzu UV-Vis measures: Bitterness, Color, Polyphenols, and Diacetyl Content.
UV-Vis Water Analysis System
The Water Analysis Package offers an easy to use and convenient "User Defined" option for the included 39 analytes.
UV-Vis & UV-Vis-NIR Accessories & Components