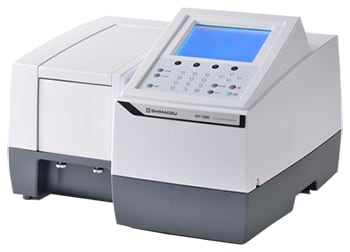 The Shimadzu UV-1280 is a low-cost, high-quality instrument ideal for applications ranging from routine environmental and food quality testing to life science analyses. The monitored double-beam UV-1280 is equipped with seven measurement modes, features USB data portability, and offers wavelength scanning from 190 to 1,100 nm. Combining these features with intuitive operation improves work efficiency, making the compact UV-1280 the ideal choice for applications in a variety of industries.
The instrument features a keypad with a LED screen to enable user-friendly intuitive measurements, instrument validation, and printing operations. Measurement modes include photometric, spectrum, quantitation, kinetics, time course and bio-methods. Additionally, with the optional software, Shimadzu VisEaseTM, designed as a simplified application program with minimum interface, the UV-1280 can be operated with a PC.
Movies
How To Change Lamps in a Shimadzu UV-VIS Instrument

This video demonstrates how to change the lamps in a Shimadzu UV-VIS Spectrophotometer.

{"title":"Downloads","description":"Download the latest brochure.","source":"product","key":3339,"max":"30","filter_types":["brochures"],"link_title":"View other Downloads","link_url":"","pdf_links":[]}
{"title":"Applications","source":"product","key":3339,"max":"3","filter_types":["applications","application_note","posters"],"link_title":"Learn more","link_url":"\/products\/uv-vis\/uv-vis-nir-spectroscopy\/uv-1280\/applications.html","config_list":[],"page_links":[]}
{"title":"Technical Documents","source":"product","key":3339,"max":"3","filter_types":["technical","technical_reports","white_papers","primers"],"link_title":"Learn more","link_url":"\/products\/uv-vis\/uv-vis-nir-spectroscopy\/uv-1280\/applications.html#tbaleAnchor_technical","config_list":[],"page_links":[]}
{"title":"Manuals","source":"product","key":3339,"max":"3","filter_types":["manuals"],"link_title":"Learn more","link_url":"\/products\/uv-vis\/uv-vis-nir-spectroscopy\/uv-1280\/applications.html#tbaleAnchor_manual","config_list":[],"page_links":[]}