Shimadzu's metabolomics platforms deliver cutting-edge analytical solutions to the emerging science of the measurement and analysis of metabolites in cells of organisms at specific times and under specific conditions. Metabolomics requires the implementation of many analytical processes, including spectroscopy, chromatography, and mass spectrometry. Shimadzu metabolomics tools will increase your lab's productivity and increase your confidence in your metabolomics data!
Metabolomics Research Platforms & Solutions
Featured Metabolomics Solutions
Rapid & Reproducible Blood Plasma Collection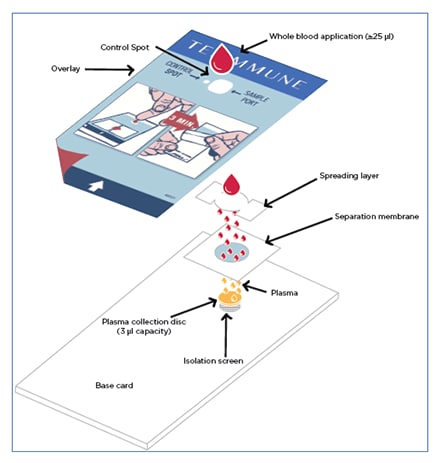 Shimadzu Scientific Instruments has partnered with Telimmune TM (formerly Novilytic) to offer a powerful, new technology for the rapid generation of plasma from whole blood.
Telimmune Plasma Separation Cards are simple, powerful microsampling tools used to collect volumetric samples of plasma from non-volumetric applications of whole blood in just minutes. An un-measured application from a finger-stick, mouse tail-bleed (or other source) is all that is required to collect a volumetric plasma sample in only three minutes. Tellimmune Cards can be used as a single step, solid-phase method for sample preparation and analyte extraction, eliminating the need for time consuming techniques such as solid phase extraction, centrifugation and evaporation.
Features of Telimmune Card:
99% removal of red blood cells (based on Hb levels in plasma).
Plasma sampling volumes of ~3 µL (6 µL DUO).
Inter-card CV of ~1% (~3% for DUO) in plasma collection volume at constant hematocrit (HCT).
Inter-card CV of 2% collection volume variation with 20% to 71% HCT
Shelf life of 24 months under storage conditions of -5°F to 110°F (-23C to 43C).
FDA Class 1 Device. Regulation Number: 864.3250, Product Code: NNK.