Peak Purity / Deconvolution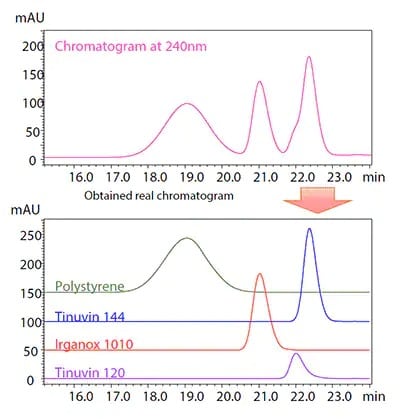 To get the most from your photo diode array data, using all three dimensions of data is key. Spectral information can allow confident identification of peaks from your library or alert you to potential coelution of impurities or related substances. Traditional Peak Purity algorithms, based on cosine vector comparison of spectra at select points across the peak, are one way to assess potential coelution. This approach can confirm the presence of a coeluting peak but is unable to assist with characterizing or quantifying such a peak.
i-PDeA II (Intelligent Peak Deconvolution Analysis II) data analysis was developed by Shimadzu to analyze photodiode array (PDA) detector data using multivariate curve resolution alternating least squares (MCR-ALS) techniques. The i-PDeA II function can deconvolve multi-component peaks by simply specifying wavelength and time ranges, providing both absorbance versus time and spectrum data for each feature identified from the raw data. i-PDeA II-generated spectra and peaks can be handled with the same tools in LabSolutions to allow comparison of spectral similarity and quantification of 2D data. The power of MCR-ALS deconvolution uses both peak fitting and spectrum fitting within its optimization, even isomers that are unresolved can be separated and quantified with accuracy that rivals full separation.
Find out how Shimadzu can help you get the most from your PDA data, whether your challenge is spotting coelution early in drug development, developing stability assays for tricky related compounds, or ensuring final product purity. With built-in tools like Peak Purity and Similarity, Spectral Library comparison, and i-PDeA II MCR-ALS deconvolution, LabSolutions brings the benefits of 3D data to your lab.