i-Series Integrated HPLC and UHPLC Systems
High Performance Liquid Chromatograph
i-Series Integrated UHPLC Systems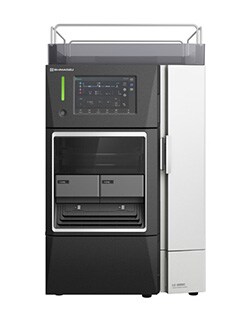 The need for a more flexible work style, driven by increased automation, while attaining consistent, high-quality results for all users, continues to grow among chromatographers. Shimadzu answers this need with its line of i-Series integrated HPLC/UHPLC systems. Redefining integrated LC technology by adding innovative, intelligent and intuitive features to existing performance excellence, the integrated i-Series HPLC/UHPLC delivers outstanding data quality, improved workflow efficiency, and maximum uptime.
Finally, an LC as smart and flexible as you!
Our Advanced i-Series Systems Build On A Tradition Of Excellence
Analytical Intelligence – Smart Automation Features
Detector flexibility - Choice of UV or PDA detector and easy external detector addition
Compatible with small particle columns (up to 70MPa; 10,000 psi)
User Friendly Operation
Space-saving benchtop design (16" wide) delivers powerful LC functions in an integrated format
Increased sample capacity - Autosampler accommodates over 1,500 samples
Simplifed method transfer from other instrument platforms
Exceptional compatibility with LabSolutions and Multi-Vendor Software*
Learn more about the i-Series Integrated UHPLC System
The integrated i-Series LC system keeps the excellent performance of its predecessor but also addresses the demands of an increasingly varied range of users, locations, and approaches to analysis while always delivering highly reliable analytical results.
Experience a new approach to analysis activities with the i-Series. Times now call for an analytical environment that can deliver identical results regardless of whether the analyst is present in the laboratory or familiar with the operating procedures, as long as the analyst performs the same operations and data analysis.

Welcome to the future of HPLC. Artificial intelligence (AI) is all around us. Every day we see new uses emerge to help make everyday tasks more efficient and solve problems across multiple industries. From digital personal assistants like Alexa to self-driving trucks to automated manufacturing facilities, AI technologies are changing the way we live, work and do business. And now, this new technology can also help analytical scientists maximize the accuracy and repeatability of their LC analysis. Using new and exciting technologies to help you increase throughput, improve accuracy and protect valuable columns, Shimadzu is delivering what you need for continued success. Not just artificial intelligence—ANALYTICAL INTELLIGENCE™.
ANALYTICAL INTELLIGENCE brings the power of artificial intelligence to your laboratory, transforming your laboratory from manual, tedious chromatography to automated, intelligent workflows that optimize resource allocation, increase throughput and reduce instrument downtime.
ANALYTICAL INTELLIGENCE integrates M2M, IoT, and Artificial Intelligence (AI) functionality, enabling higher productivity, maximum reliability, improved automated workflows, advanced remote operation, mobile phase monitoring and self-diagnosis and auto-recovery.
Using our new, advanced i-Series, you can deliver new analytical insights, drive operational efficiencies and increase equipment uptime. Read more about key ANALYTICAL INTELLIGENCE features below and contact us to learn more!
The LabSolutions Unified Laboratory Management System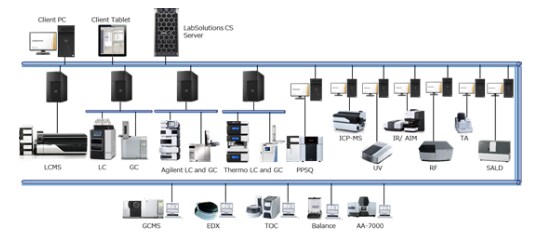 The LabSolutions software platform is Shimadzu's ULMS systems. It provides a single, easy to use interface for multiple types of Shimadzu instruments. LabSolutions ULMS provides extremely efficient laboratory workflows while still providing the high level functionality and data management that our customers have come to expect from all Shimadzu products.
When multiple types of instruments are included on the same LabSolutions ULMS network laboratory efficiency for the entire analytical laboratory is greatly increased. All Shimadzu laboratory instruments on the LabSolutions network can be stored in a central secure LabSolutions database. Since all laboratory data is being stored in the same database using a single software platform it becomes possible combine data from multiple instruments and multiple types of instruments into single unified reports.
With Shimadzu's electronic records and Electronic signature capabilities customers can be assured that all data generated in the laboratory by any Shimadzu instruments meets all current regulatory requirements.
The Shimadzu LabSolutions ULMS system can acquire data from the following Shimadzu instruments LC, GC, LCMS, LC/MS/MS, GCMS, ICPMS, UV, IR, RF, Thermal Analysis, Balances, TOC-L, EDX, and ICP. The Shimadzu LabSolutions ULMS system can also acquire data from some non-Shimadzu instruments as well.
Movies
The new, integrated i-Series LC system keeps the excellent performance of its predecessor but also addresses the demands of an increasingly varied range of users, locations, and approaches to analysis while always delivering highly reliable analytical results.

i Series - A more flexible work day
{"title":"Downloads","description":"Download the latest brochure.","source":"product","key":4554,"max":"30","filter_types":["brochures"],"link_title":"View other Downloads","link_url":"","pdf_links":[]}
{"title":"Applications","source":"product","key":4554,"max":"3","filter_types":["applications","application_note","posters"],"link_title":"Learn more","link_url":"\/products\/liquid-chromatography\/hplcuhplc\/i-series\/applications.html","config_list":[],"page_links":[]}
{"title":"Technical Documents","source":"product","key":4554,"max":"3","filter_types":["technical","technical_reports","white_papers","primers"],"link_title":"Learn more","link_url":"\/products\/liquid-chromatography\/hplcuhplc\/i-series\/applications.html#tbaleAnchor_technical","config_list":[],"page_links":[]}
{"title":"Manuals","source":"product","key":4554,"max":"3","filter_types":["manuals"],"link_title":"Learn more","link_url":"\/products\/liquid-chromatography\/hplcuhplc\/i-series\/applications.html#tbaleAnchor_manual","config_list":[],"page_links":[]}