SHIMADZU AlMs to provide analysis systems for all users.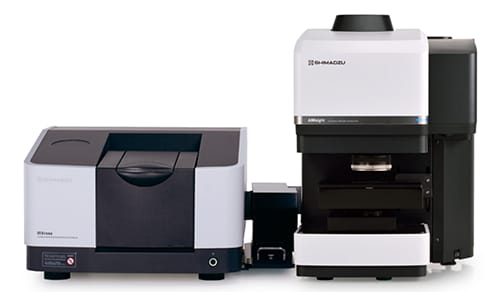 An automatic analysis system that can be used with confidence from your first analysis
Equipped as standard with enhanced functionality to support analyses
AIMsight, the Analytical Intelligence logo, LabSolutions, IRXross, and IRTracer are trademarks of Shimadzu Corporation or its affiliated companies in Japan and/or other countries.
Movies
Official Product Video - Infrared Microscope AIMsight

This instrument easily and automatically measures micro targets by irradiating them with infrared rays, and then investigating the reflectance and transmittance. In addition to trace contaminant analysis and quality control in fields such as chemistry, electrical devices and electronics, machinery, and transportation equipment, this instrument will play a role in researching microplastics, tiny plastic particles that have a negative impact on the environment.

{"title":"Downloads","description":"Download the latest brochure.","source":"product","key":4735,"max":"30","filter_types":["brochures"],"link_title":"View other Downloads","link_url":"","pdf_links":[]}
{"title":"Applications","source":"product","key":4735,"max":"3","filter_types":["applications","application_note","posters"],"link_title":"Learn more","link_url":"\/products\/ftir\/ftir-spectroscopy\/aimsight\/applications.html","config_list":[],"page_links":[]}
{"title":"Technical Documents","source":"product","key":4735,"max":"3","filter_types":["technical","technical_reports","white_papers","primers"],"link_title":"Learn more","link_url":"\/products\/ftir\/ftir-spectroscopy\/aimsight\/applications.html#tbaleAnchor_technical","config_list":[],"page_links":[]}
{"title":"Manuals","source":"product","key":4735,"max":"3","filter_types":["manuals"],"link_title":"Learn more","link_url":"\/products\/ftir\/ftir-spectroscopy\/aimsight\/applications.html#tbaleAnchor_manual","config_list":[],"page_links":[]}