Monoclonal Antibodies and Biosimilars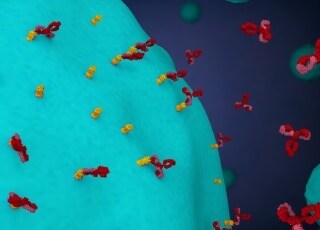 Monoclonal antibodies (mAbs) have emerged as revolutionary therapeutic agents for an array of human diseases. In addition to their large mass and complex structure, mAbs are varied in their origin, makeup, effector function and delivery, and therefore require thorough formulation development, including characterization, quantitation and preservation.
More and more special designed Antibody drug conjugates (ADCs) are under development as targeted therapy for treating cancer. ADCs combine the targeting capabilities of monoclonal antibodies with the cancer-killing ability of cytotoxic drugs, allowing new "proximity" based dosing strategies.
As therapeutic development moves from IgG-based antibodies to technologies like bispecific antibodies, peptibodies, and fusion proteins, we are leading innovation in analytical techniques. nSMOL (nano-surface and molecular orientation limited proteolysis) is Shimadzu's novel approach that enables selective proteolysis of the Fab region of monoclonal antibodies. The nSMOL Antibody BA Kit is a ready-to-use reagent kit for collecting monoclonal antibodies from blood or other biological samples using immunoglobulin collection resin, and then performing selective proteolysis of the Fab region of these antibodies via trypsin-immobilized nanoparticles. Variable region-derived peptides produced by limited proteolysis can then be quantified via MRM measurements utilizing a high-performance liquid chromatograph mass spectrometer.
As first and second generation antibody therapeutics migrate off patent, there is a need to provide the same robust analysis to biosimilar therapeutics. The need to characterize not only the sequence of expressed mAbs, but the various post-translational modifications (PTMs) that can occur is key to proving bioequivalence for regulatory filings. Solutions for N-linked glycan analysis, charge variant analysis, and aggregation state are all available from your partners at Shimadzu.