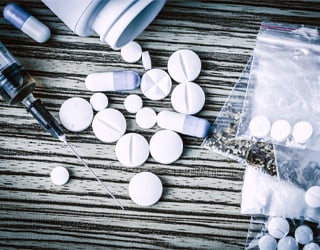 Law enforcement agencies are responsible for monitoring and identifying drugs and other substances that are considered controlled substances by the Controlled Substances Act (CSA).  With the emergence of new psychoactive compounds (NPS), synthetic cannabinoids and fentanyl analogs, the need for accurate and sensitive analytical techniques is crucial for identifying classes of compounds. Shimadzu offers a series of analytical techniques including FTIR, HPLC, GC, GC-MS and LC-MS/MS for drug identification. 
Featured Shimadzu Solutions
Shimadzu Solutions for THC Quantitation
Featured Applications
Identification and Confirmation of Ten Common Seized Drugs Utilizing an LCMS-2020 Single Quadrupole Mass Spectrometer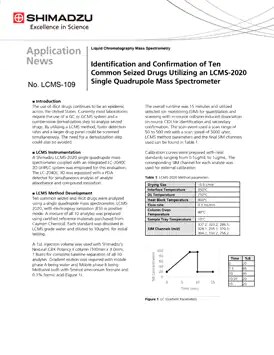 The use of illicit drugs continues to be an epidemic across the United States. Currently most laboratories require the use of a GC or GCMS system and a cumbersome derivatization step to analyze seized drugs. By utilizing a LCMS method, faster detection rates and a larger drug panel could be screened simultaneously. The need for a derivatization step could also be avoided.
Quantification and Simultaneous In-Source Fragmentation of 16 Cannabinoids in Hemp Using Single Quadrupole LC-MS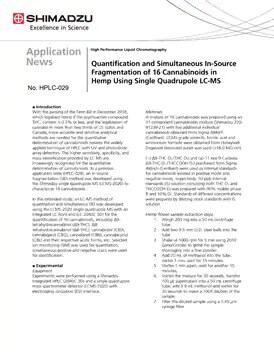 In this extended study, an LC-MS method of quantitation and simultaneous SID was developed using the LCMS-2020 single quadrupole MS with an integrated LC front end (LC 2040C 3D) for the quantification of 16 cannabinoids, including Δ9-tetrahydrocannabinol (Δ9-THC), Δ8-tetrahydrocannabinol (Δ8-THC), cannabidiol (CBD), cannabigerol (CBG), cannabinol (CBN), cannabicyclol (CBL) and their respective acidic forms, etc. Selected ion monitoring (SIM) was used for quantitation, simultaneous positive and negative scans were used for identification.
Tocopherol (Vitamin E) Analysis in Vaping E-Liquid by UHPLC-PDA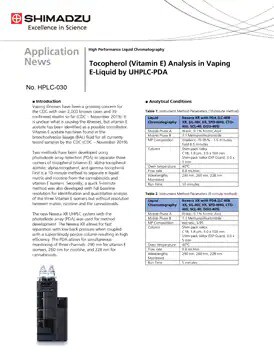 Vaping illnesses have been a growing concern for the CDC with over 2,000 known cases and 39 confirmed deaths so far (CDC – November 2019). It is unclear what is causing the illnesses, but vitamin E acetate has been identified as a possible contributor. Vitamin E acetate has been found in the bronchoalveolar lavage (BAL) fluid for all currently tested samples by the CDC (CDC – November 2019). Two methods have been developed using photodiode array detection (PDA) to separate three isomers of tocopherol (vitamin E): alpha-tocopherol acetate, alpha-tocopherol, and gamma-tocopherol.
Quantitative Analysis of 16 Cannabinoids with Complete Baseline Separation of Δ8 and Δ9-THC Utilizing the Triple Quad LCMS-8050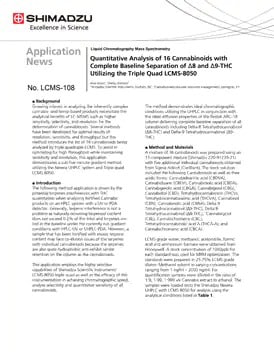 The following method application is driven by the potential terpenes interferences with THC quantitation when analyzing fortified Cannabis products on an HPLC system with a UV or PDA detector. Generally, terpene interference is not a problem as naturally occurring terpenoid content does not exceed 0.2% of the total and terpenes are lost in the baseline under the currently run gradient conditions with HPLC-UV or UHPLC-PDA. However, a sample that has been fortified with excess terpene content may face co-elution issues of the terpenes with individual cannabinoids because the terpenes are also quite hydrophobic and exhibit similar retention on the column as the cannabinoids.
Other Solutions